Latin Way is located downhill between Haskell Hall and Harleston Hall. There is student parking in front of the residence. Latin Way is separated by towers A-F. A tower is closest to Haskell, and F tower is closest to Harleston. 
Rooms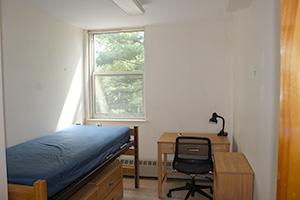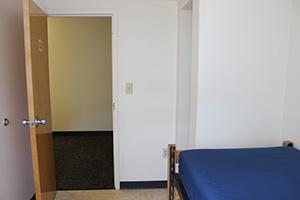 16 apartments: capacity 4 people, all single rooms
1 apartment: capacity 6 people, 4 singles and one double
Seven 10-Person Apartments with 6 singles and 2 doubles
Three 10-Person Apartments with 4 Singles and 3 Doubles
Furniture provided for each student:

One extra-long twin bed

Multi-positioned beds that have 11 height adjustments up to 32 inches, with 30 inches of space underneath when raised to maximum height

One desk
One desk chair
One closet
One dresser

One window/shade per room
Bathrooms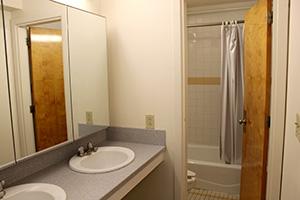 10-person apartments have 2 bathrooms, 4 person apartments have 1 bathroom. 6- and 8-person apartments bathroom count varies. All bathrooms have sinks, showers, toilets and mirrors.
Common Areas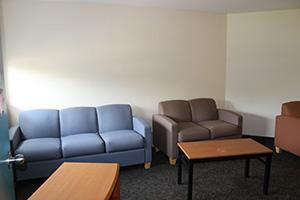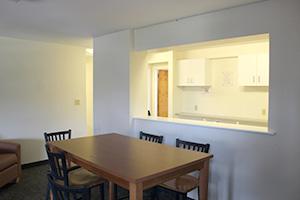 One lounge in each apartment furnished with tables, chairs, couches, and a dining table.
Amenities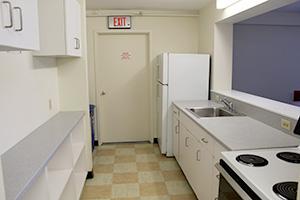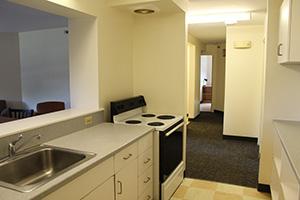 One common kitchen per apartment, equipped with a stove, oven, refrigerator, and sink
Washing machines and dryers in several towers on the 1st floor