Center for STEM Diversity Leadership
Staff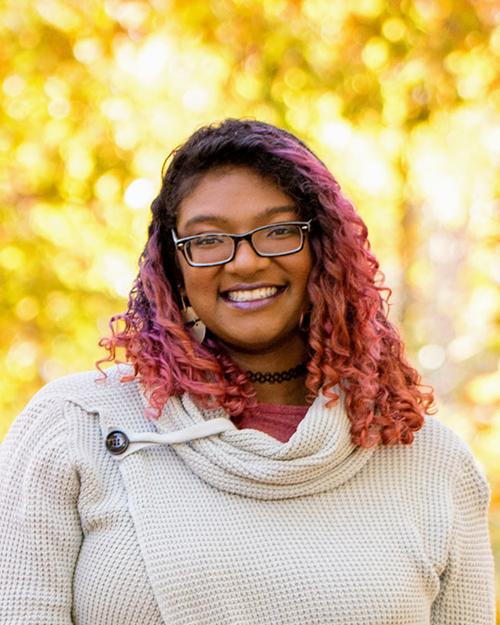 Grace Caldara, PhD
Director of the Center for STEM Diversity
Dr. Grace Caldara's passion for STEM began in high school when her uncle gave her a tour of his biology research lab. When she later pursued an undergraduate education in chemistry, she quickly realized that as a Black woman in STEM she often was one of the few people of color to occupy the space. She credits the exposure and mentoring she received through the Ronald E McNair program for her success in completing her degree program and pursuit of a career in STEM. She is looking forward to helping the next generation of STEM students to thrive in their programs at Tufts University
Prior to joining Tufts, Dr. Caldara was the Senior Manager of Learning and Development at Supermajority, a non profit organization working to advance gender equity through education, training, storytelling and activism. During her time at Supermajority she developed and facilitated a nationwide leadership program, run annually, in which she taught thousands of young women of color values-based leadership strategies. Additionally, she managed the 2.9 million member Pantsuit Nation community focused on elevating personal stories and lived experiences from women from across the country. Prior to its merger with Supermajority, Dr. Caldara was the Director of Community Engagement for the Pantsuit Nation Foundation where she developed diversity, equity and inclusion training materials to more effectively support and guide her team of online moderators in facilitating difficult discussions around race, gender and other systematic marginalizations. She also authored content for the book Pantsuit Nation.
Dr. Caldara holds a Master's and PhD in Chemistry from the University of California Irvine and a Bachelor's degree in Chemistry from Boston College. Prior to joining the non-profit sector, she also taught Biochemistry labs at Chapman University.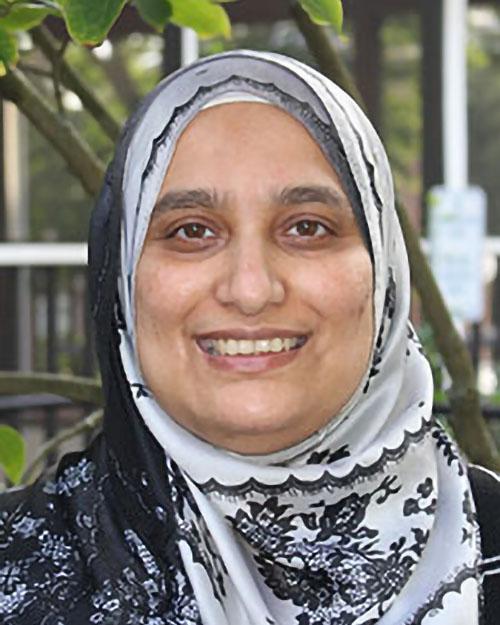 Sehba Hasan
BEST Program Manager for the Center for STEM Diversity
Sehba Hasan is the Program Manager for the BEST program and takes joy in helping underrepresented students achieve academic success by connecting students to right resources and organizing different workshops, seminars, events, and meetings. Born and brought-up in India, a country rich in diversity, Sehba understands and looks forward to serving a diverse population.
Before coming to Tufts, Sehba worked as an Assistant Director at the Mount Wachusett Community College and served two federally funded grants that  supported First-Generation and Low-Income students and helped them achieve higher education.
She has a degree in Engineering in Electronics and Telecommunications and her Masters in Business Administration, with Management as the major. In addition to STEM, Sehba loves cooking, arts, and crafts.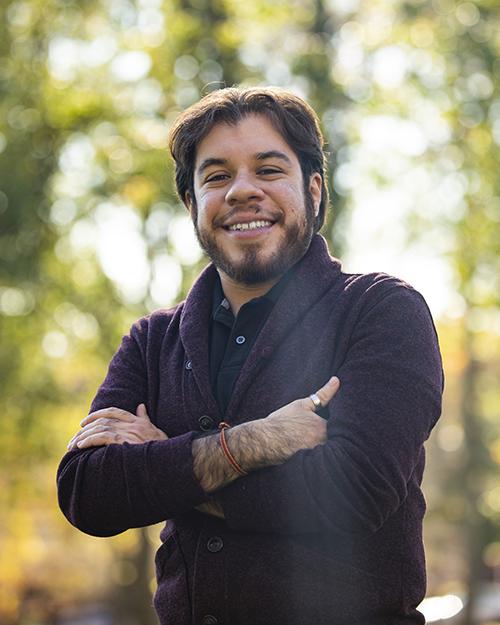 Mafalda Gueta
Diversity Program Administrator for the Center for STEM Diversity
Mafalda has always been passionate about serving underrepresented groups in education. Mafalda spent the last two years working as a Residence Director and Co-Chair for the Council for Equity & Inclusion at Bard College at Simon's Rock. As an RD, he supported students' wellbeing and responded to concerns and crises as they arose. In his role as Co-Chair, Mafalda worked alongside the Dean for Equity & Inclusion on developing a positive, inclusive, and welcoming campus climate by sustaining and institutionalizing diversity, equity, and inclusion.
During his time as an undergraduate at the University of California, Riverside, Mafalda actively advocated for the undocumented student community at UCR. As a result, Mafalda served as a representative on behalf of UCR on a coalition of students and worked towards establishing permanent resources for undocumented students on all UC campuses. In coming to Tufts in Summer 2021, Mafalda's new role as a Diversity Program Administrator for the Center for STEM Diversity, he will work directly to support both the Department of Biomedical Engineering and the Department of Civil and Environmental Engineering.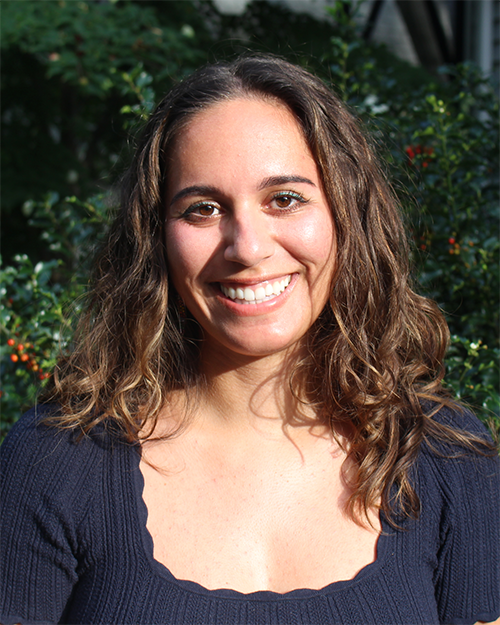 Sophia Hamdan
Program Administrator for the Center for STEM Diversity
Before arriving at Tufts in 2021, Sophia earned her Bachelor's degree in English Literature from the University of Mary Washington, and a Master's degree in Higher Education Administration from Boston College. She oversaw the Campus Activities Board at Boston College and promoted inclusive programming practices. Sophia also interned at both the University of California San Diego and Curry College; at the former, she supported a latitude of student needs through a Residence Life capacity, and, at the latter, she implemented Restorative Justice practices and created resources benefitting survivors of sexual assault.
After graduating with her Master's degree, she worked with Wellesley College to create multi-week, comprehensive courses for all faculty, staff, and students to educate them on anti-racist practices, sexuality and gender topics, and how to be an effective ally. Sophia is also an accomplished public speaker; she has delivered speeches, presentations, and trainings to audiences of over 1,000 people on topics of leadership, advocacy, empowerment, and inclusive habits.
As the Program Administrator overseeing the STEM Ambassador program, she is responsible for the successful execution of the program and the development of the Ambassadors. Sophia is the main contact for Tufts' community partners regarding the STEM Ambassadors program and within the Engineering Ambassadors Network for Tufts.
External Advisory Board Members
Members of the external advisory board represent our most committed supporters focused on furthering the work of the Center for STEM Diversity. Board members offer their time, resources, guidance, and personal connections through years of professional involvement with leading companies, organizations, research endeavors, and STEM education initiatives. Members serve a four-year term with an option to renew based on mutual agreement between the member and the director.
Carolyn Birmingham, E57
Carolyn graduated from Tufts School of Engineering in 1957 with a major in Electrical Engineering. She spent the next decade working at General Radio, a manufacturer of electrical measuring equipment, in Cambridge and Concord, MA. Since 1997, Carolyn has served as the Founding Director of Step Up to Excellence, a three-year, school-based mentoring program for motivated high -school students from low-income families.
Aliandro Brathwaite, E14, Skanska USA Civil, Inc.
A member of the first graduating cohort of the BEST program, Aliandro Brathwaite is an Engineer-in-Training currently working at Skanska USA Civil Inc. in Waltham, MA. He graduated from Tufts University in May of 2014 with a bachelor's degree in Civil Engineering. At Skanska, he works in design management with an emphasis on Building Information Modeling and CAD software specialization. Originally from Brooklyn, NY, he currently resides in Somerville, MA.
Lisann (Lee) Keverian Dillon, E84, GE Aviation
Lee is the Engineering/Technical Excellence Leader for the Product Engineering Center at GE Aviation in Lynn, MA. She leads the technical development for 500+ engineers where turbomachinery is designed, analyzed and developed. In addition, Lee has led the GE Women's Network Boston Sub-Hub, a network for fostering the development, promotion, and retention of women in technology and commercial roles at GE Aviation.
John Hurley, E93, Analog Devices, Inc.
John Hurley is the Human Resources Business Partner for Analog Devices' Healthcare, Consumer, and IoT Businesses. In this role, he is responsible for providing a comprehensive range of human resources strategic initiatives and support for the organization. Previously, John has held similar HR roles supporting the sales organizations in North America and Asia, and was Manager of Talent Acquisition where he was responsible for developing and executing the staffing strategy for Analog Devices' North American Operations.
John Matsui, University of California, Berkeley
As Director and co-Founder of the Biology Scholars Program (BSP) at the University of California, Berkeley, John's commitment is to make biology accessible to all students with an interest. Through the BSP, MARC, and IMSD programs, John's goal is to "level the playing field" for individuals who, like himself, do not fit the historical profile of success, and to help them become leaders in their future science-related careers. For more than 20 years, John has learned from more than 2,500 program participants how Berkeley can better train and support its undergraduate and graduate students in biology.
Darryl Williams, The Franklin Institute
As The Franklin Institute's Senior Vice President of Science and Education, Dr. Darryl N. Williams oversees all aspects of the science and educational programming at the heart of the Institute's efforts to inspire a passion for learning about science and technology. Dr. Williams joined the Institute from Tufts University's School of Engineering where he was Dean of Undergraduate Education and Director of the Center for STEM Diversity. With more than a decade of experience in everything from clinical research to workforce development, Dr. Williams brings not only a wealth of knowledge on science and technology learning to the Institute, but also a vibrantly interdisciplinary perspective.
Jessica Yu, MITRE
Jessica Yu is a Human Factors Engineer in the Human Systems Integration, Visualization, and Decision Support department at the MITRE Corporation. In her role, Jessica applies her passion for making the world a better place through human-centered design to create innovative solutions for our nation's most critical challenges. Jessica is responsible for conducting user research, designing user interfaces that fulfill user needs and goals, and evaluating the usability of a wide range of systems and platforms. A focus on people has always been at the center of her career. Prior to becoming an engineer, Jessica led MITRE's College Recruiting and Student Program where she was responsible for setting the strategy to engage students across the country in creating awareness of MITRE as an employer of choice, facilitating full-cycle recruiting, and developing internal programming for co-ops and interns from high school to the Ph.D. level.