Santiago de Chile, Chile
Chile is a country of great natural beauty, with climates ranging from tropical to polar desert, and landscapes that include the world's driest desert and one of the hemisphere's highest mountains. 
Santiago, Chile's capital and largest city, is a metropolis of over eight million, which is approximately 40% of the country's total population. It is the political, industrial, retail, and financial center, as well as the transportation hub of the country. Situated in the country's central valley, Santiago is surrounded by the Andes Mountains, and is within an hour of mountains, vineyards, and the Pacific Ocean.
Tufts in Chile invites you to experience one of Latin America's leading intellectual and cultural centers. Enroll in courses at the University of Chile or the Pontificia Universidad Católica in Santiago, two of the region's leading universities; participate in an internship; and live with a host family. Gain relevant professional experience and develop a deeper understanding of Chilean culture through an internship or volunteer opportunity.
Terms
Fall, Spring, Full Year
Language Prerequisites

Spanish 21 and 22 (Composition and Conversation) or the equivalent to six semesters of college-level Spanish

GPA Requirement
3.0
Host Universities

Universidad de Chile

Pontificia Universidad Católica de Chile

Language of Instruction 
Spanish
Internship Option
Yes, for-credit and not-for-credit options
Housing
Homestay
Academics
The University of Chile and at the Pontificia Universidad Católica de Chile offer courses across all majors, although this program may be of particular interest to students of Latin American Studies, International Relations, Environmental Studies, and the Social Sciences.
Students typically enroll in four courses per semester, including a required Spanish language course—equivalent to Spanish 121—specifically for program students; native speakers of Spanish or those who have already completed Spanish 121 are exempt from this requirement. All courses are taught in Spanish.
If you are interested, you can also be placed in internships and community service positions.
Be sure to review our academic policies for education abroad and plan accordingly with your academic advisors.
Prerequisites
This program is open to Tufts undergraduate juniors and seniors who meet the general eligibility requirements and who have successfully completed at least Spanish 21 and 22 (Composition and Conversation), or the equivalent of six semesters of college-level Spanish. Students from all academic majors are encouraged to apply.
Universidad de Chile
The University of Chile, founded in 1738, is one of Latin America's oldest and most prestigious universities. It includes thirteen faculties that range from arts and sciences to law and medicine. The university has 23,000 undergraduate students and 55 libraries that contain some two million volumes, divided among the various departments. Students are fully integrated into the life of the university and can take regular courses in any of its faculties, which are located across five campuses and accessible by public transportation. The faculties of Arts, Humanities, Sciences, and Social Sciences are all located on the Juan Gomez Millas campus.
The following is a list of academic departments at the University of Chile. Refer to the University of Chile website for the most current course information; note that not all courses are offered every semester.

Faculty of Architecture and Urban Studies

Faculty of Chemistry and Image Institute

Biochemistry
Chemistry
Chemistry and Pharmacology

Faculty of Economics and Business

Accounting
Information Systems and Financial Management
Commerce: Economics; Administration

Faculty of Arts

Drama
Studio Art
Musical Interpretation
Theater Design
Theory and History of Art
Music Theory
Dance
Sound

Faculty of Philosophy and Humanities

Philosophy
History
French Language and Literature
Hispanic Language and Literature
English Language and Literature

Faculty of Social Sciences

Anthropology: Social Anthropology; Archaeology
Education
Psychology
Sociology

Faculty of Agricultural Science and Forestry

Agricultural Engineering
Forestry

Faculty of Sciences

Biology
Physics
Mathematics
Chemistry
Biotechnology
Environmental Science

Faculty of Physics and Mathematics

Astronomy
Computational Science
Human Studies
Physics
Geophysics
Geology
Civil Engineering
Electrical Engineering
Industrial Engineering
Mathematical Engineering
Engineering Materials
Mechanical Engineering
Chemical Engineering
Basic Chemistry
Sports, Recreation, and Culture

Institutes

Institute of International Affairs
Institute of Public Affairs
Communication and Image Institute
Pontificia Universidad Católica de Chile (PUC)
The Pontificia Universidad Católica de Chile, founded in 1888, was granted academic autonomy by the Chilean government in 1931. It is a private (with public support) urban, multi-campus university. Its 18 faculties are distributed across four campuses in Santiago and one regional campus in southern Chile. PUC continues to have a permanent commitment to quality in their service, in fulfillment of their founding mission. PUC also holds strict and rigorous academic standards that adopt international best practices from top universities around the world.
Courses at Pontificia Universidad Católica

The following is a list of academic departments at Pontificia Universidad Católica (PUC). Refer to the PUC website for the most current course information; note that not all courses are offered every semester.

Faculty of Arts

History and Theory of Art
Drama
Music

Faculty of Biological Sciences

Biochemistry
Biology
Ecology
Marine Biology

Faculty of Social Sciences

Psychology
Sociology: Social Anthropology

Faculty of Philosophy

Aesthetics: Oriental Arts and Aesthetics; Aesthetic of the Latin American Culture; Aesthetics of Photography; Aesthetics of Cinema; History of Art
Philosophy

Faculty of Physics

Faculty of Communications

Faculty of Economic and Administrative Sciences

Economics
Entrepreneurship Management

Faculty of History, Geography, and Political Science

Geography
Political Science: International Relationships
History

Faculty of Letters

Hispanic Linguistics and Literature
English Linguistics and Literature
Greek and Latin Classical Studies
Literary Studies

Faculty of Mathematics

Faculty of Chemistry
Internships
Students also have the option to enroll in a credit-bearing internship course, earning 4 SHUs, or an internship without academic credit. The Internship Coordinator will collaborate with students to secure a placement aligned with their area of interest at a reputable local organization or business. Previous internship placements have encompassed various fields such as human rights, health care, education, computer science, and social work, among others.
For students taking the internship for credit, a syllabus will be provided, along with assigned coursework. They will also benefit from monthly on-site supervision from the Internship Coordinator. Attendance will be recorded, and an oral exam as well as a final project will be required.
Orientation
The program Director leads a ten-day orientation program prior to the start of classes. During the orientation, you will be introduced to Chilean history, society, politics, public health, human rights, environment and sustainability, and culture of Chile. The orientation includes cultural activities and trips to the coast, mountains, and more.
Housing and Meals
As a student in the program, you will live with a Chilean family that is carefully screened by the Director. You usually have breakfast and dinner with your host family, giving you an experience of Chilean life and culture that will complement your experience at the university. To ensure one-to-one contact with the culture and the language, no more than one student is placed with a family. You will receive a weekly allowance for lunch (which can be purchased at university cafeterias or in the community), transportation, and incidental expenses.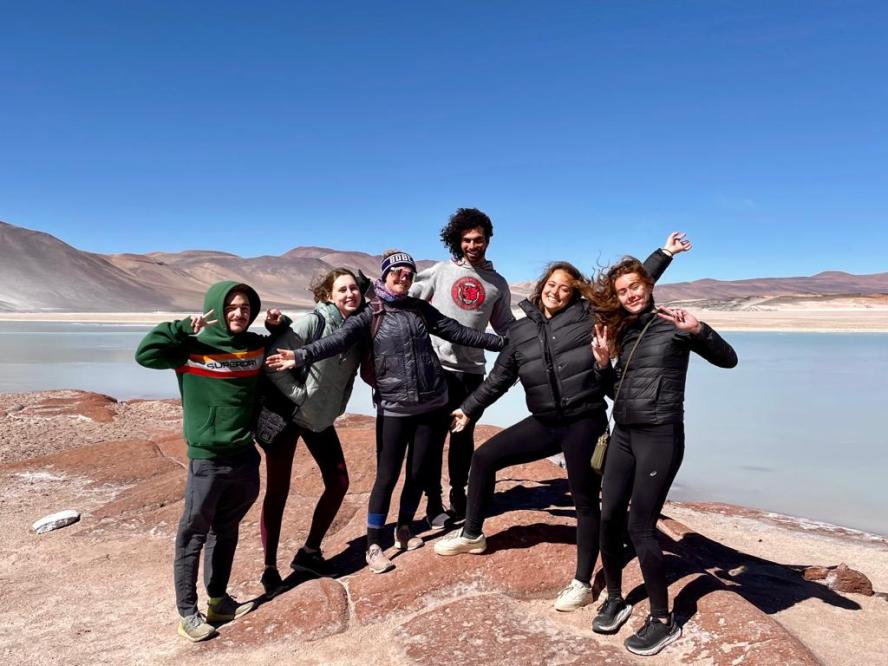 Co-Curricular Activities
Both the University of Chile and PUC offer a full range of co-curricular activities.
The University of Chile has professional-level athletic teams—visiting U.S. basketball players have made the team–as well as intramural and recreational sports, including soccer, tennis, and basketball.

The University of Chile and PUC both have a range of cultural groups, including chorus, orchestra, and ballet. Students receive inexpensive tickets to attend performances by these university cultural groups.
Santiago has a rich cultural life, with first-rate theater, opera, and classical music, as well as popular and folk music, art exhibits and poetry readings. World-class ski slopes and beaches are located within two hours of Santiago.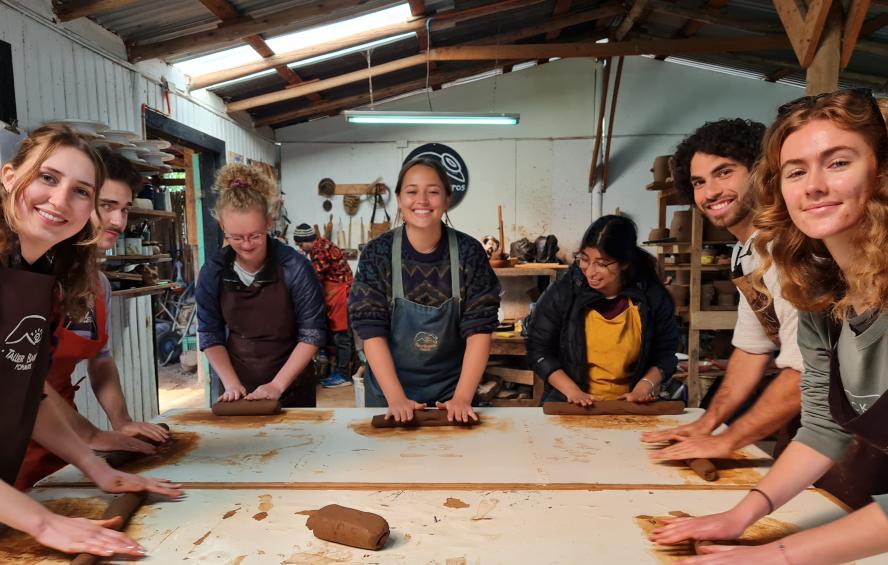 Cultural Excursions
The Director organizes cultural events and excursions to places of interest in Santiago and other regions of Chile. Past excursions–focusing on history and politics, regional customs, outdoor activities, music, and art–have included:
Andes Mountains
Atacama Desert
Day trips: Valparaíso, Pomaire, Ruca Mapuche, Valle de Colchagua
Santiago city tours
Harvest experience at Viña Casas del Bosque
Trekking in San Carlos de Apoquindo 
The Poet's Route
"It was an incredibly rewarding experience to notice my improvement in language skills, global perspectives, and empathy. I left Chile with much more knowledge of both the country and myself. And practicing a language in an immersive setting is far more helpful than classroom learning could ever be."

– Fall 2022 Participant 
"This is an incredible program. Not only is Chile a beautiful, interesting country with amazing nature and travel, but the program itself is very well done. I would have had a very different experience in Chile had I gone with a different group, and while I'm sure I'd still have a good time, being there with Tufts certainly improved the experience and made it extra special. The director is fantastic, the program attracts a lively group of students with similar interests that gets along really well (at least in my experience), and there are many additional opportunities that the program provides. Communication and support are strong too."

– Fall 2022 Participant 
Program Staff
The on-site director advises students on academic and extracurricular activities, arranges for homestays with Chilean families, and organizes study tours and cultural excursions.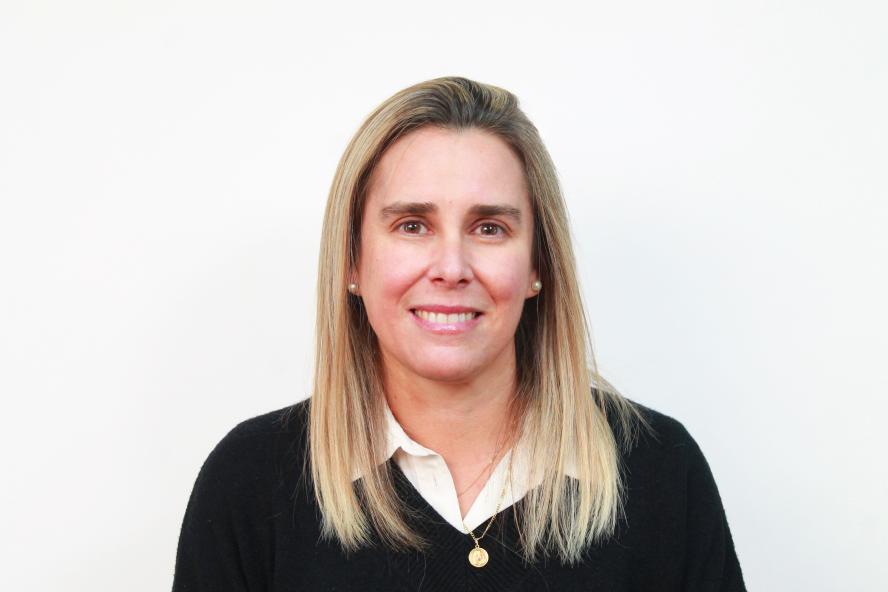 Loreto Pomar

(she/her/hers)
Director, Tufts in Chile 

Loreto Pomar was born in Santiago de Chile and has been working with Tufts University since 2010. She enjoys working with students and especially sharing the enchanting Latin American culture with them; she loves to plan and organize cultural field trips and activities for the students. Loreto holds a degree in Business and Administration Engineering with a specialization in Marketing from Universidad Gabriela Mistral. Loreto loves traveling, meeting and getting to know new people, cooking, gathering with friends and family, and outdoor sports. She always reminds students that the adventure begins at the end of the world!
Dates and Fees
2023-2024 Program Fees
Semester: $42,752 ($33,179 tuition plus $9,573 program fee) 
Full Year: $85,504 ($66,358 tuition plus $19,146 program fee)
What's included:
Round-trip airfare to Santiago from a city in the continental United States

Twelve-day orientation

Full food and housing, semester break excluded (full-year program); laundry is also provided by host family

Full tuition and fees at the University of Chile and/or PUC

Extracurricular activities 

Cultural events and excursions

Allowance for books and photocopies
For more details on Tufts University's Cost of Attendance, please consult Financial Services' Direct and Indirect Costs for Undergraduate Students.
Academic Calendar
The program calendar is based on the Chilean academic terms. Dates are approximate and subject to change.
Fall Semester: late July to mid-December
Spring Semester: mid-February to mid-July
Students participating in the full-year program will have a break between the two semesters from mid-December to mid-February, which is considered the summer break in Chile.