Oxford, England
Oxford is the oldest university in the English-speaking world, established in the 12th century, and the Tufts in Oxford program allows Tufts students the opportunity of spending a year at Pembroke College, one of the thirty-six constituent colleges of the university, as a visiting student.  Oxford's renowned tutorial system allows students to work one-on-one or in small groups with an expert in their specific area of study, focusing on the subject in depth and preparing for graduate-level work. 
Oxford is a quintessential college town, with a population of 162,000, and is home to the famous Bodleian Library, the Ashmolean and Pitt Rivers museums, Blackwell's, the largest bookstore in the world, and the Queen's Lane Coffee House, founded in 1654 and the oldest continually serving coffee house in Europe.  Located in the midlands, Oxford is just an hour train ride from London. Alice in Wonderland, The Lion, the Witch and the Wardrobe, The Hobbit and The Lord of the Rings were all written by Oxford University professors (known as 'dons') and the city is frequently used as a filming location, including the Harry Potter and James Bond movies.  Oxford's primary industries include motor manufacturing (it is where the iconic Mini is built), publishing, information technology and science.   
| | |
| --- | --- |
| Term | Full Year |
| GPA Requirements | Minimum 3.7 |
| Additional Requirements | Successful completion of at least two semesters of college-level coursework in the intended area of study past introductory level (4-6 courses total in the subject area)  |
| Host University | Pembroke College, University of Oxford |
| Language of Instruction | English |
| Housing | Student residence hall |
Academics
Students at Oxford typically take two tutorials per term over three terms in a single discipline (students in science subjects also do labs and group seminars).  
The Oxford tutorial system is a unique form of learning that requires a high degree of independence and original thought, offering students the opportunity to focus on their specific interests within subject areas. The Oxford tutorial is a meeting between the tutor (a member of the faculty) and 1-3 students once per week. Students are expected to work independently using reading lists and each meeting requires an assignment of a short research paper or presentation of 3,000 – 4,000 words.  
Typically, each tutorial is worth 6 SHUs. Final assessment is based on tutorial assignments and participation. Visiting students do not take end-of-year final exams as they would at other UK universities; however, they may be required to take collections, exams at the end of each set of tutorials, either at the end of term or the beginning of the next one. See the Oxford Glossary for more Oxford-specific terminology. 
Be sure to review our academic policies for education abroad and plan accordingly with your academic advisor(s).   
Prerequisites  
This program is open to Tufts undergraduate juniors who meet the general eligibility requirements and have a minimum 3.7 GPA. In addition, applicants must demonstrate successful completion of at least four courses of college-level coursework in the intended area of study at Oxford. Pembroke College will only accept applications from students who are prepared to study in one of the academic subjects offered to visiting students (refer to FAQ section).  
Additional Application Procedures
You must contact Melanie Armstrong, Associate Director of Tufts Global Education, no later than November 1 to discuss the program and application process. If you meet the basic application requirements and the program seems suitable to your academic plan, you will then be approved to interview with the Director for the program, Dr. Meredith Hyde, to receive approval to apply. If approved, you will be granted access to the application and must submit your completed application to Tufts Global Education by December 1, 2023 (for the 2024-2025 academic year). The following items are required as part of the application submission:
A completed Pembroke College Visiting Student application form, provided by Tufts Global Education.
Two letters of recommendation from full-time members of the Tufts faculty. Both recommendations should be from the Tufts department corresponding to the subject you wish to study at Pembroke (or one from each department if pursuing a combined subject).
Two term papers, problem sets, or other relevant pieces of sample work in the subject you wish to study at Pembroke.
Tufts will select nominees to submit to Pembroke. Pembroke, in turn, will choose the candidates to study at Pembroke, depending on the availability of spaces in the various academic subjects and the strength of individual applications. This process may take two to three months, so applicants should not expect a decision before late February or March.
Pembroke College, Oxford  
The University of Oxford, with 12,000 undergraduates and 10,000 graduate students, is over 900 years old and consists of thirty-six independent, self-contained, self-governed colleges. Tufts' agreement with Pembroke College allows a select number of qualified Tufts students to spend an academic year as fully integrated visiting students.  
Pembroke College was founded in 1624 and has a student body of 500. It is a friendly and informal college which balances intellectual activity with sports, drama, and music. Pembroke has its own boathouse and playing fields, and famous alumni include Samuel Johnson, inventor of the dictionary, James Smithson, who founded the Smithsonian, J.R.R. Tolkien, Senator William Fulbright, Kathryn Viner, Patience Agbabi, Pete Buttigieg and King Abdullah of Jordan.  
Courses
Students may study in one of the following subjects, depending upon available faculty. Please note you can only study extant combinations (such as Computer Science and Mathematics) and cannot combine others (e.g., Chemistry and Mathematics).  Please consult the Pembroke College website (refer to FAQ section) for the most current information. 
Humanities and Social Sciences: Students take two tutorials per term over three terms for a total of six tutorials over the academic year, earning 36 SHUs. 
Experimental Psychology and Natural Sciences: Students study through a combination of tutorials and laboratory work.  
Computer Science: Students study both in tutorials and in seminars. 
Biochemistry 
Biological Sciences  
Chemistry 
Computer Science 
Computer Science and Mathematics 
Economics and Management 
Economics 
English Language and Literature 
English and Modern Languages (French, German, Italian) 
European and Middle Eastern Languages (Arabic and French, German or Italian) 
History 
History and Economics 
History and English 
History and Modern Languages (French, German, Italian) 
History and Politics 
Law (Jurisprudence) 
Mathematics 
Mathematics and Philosophy 
Modern Languages (French, German, or Italian) 
Music 
Oriental Studies (Arabic, Islamic Studies, Japanese, or Chinese) 
Philosophy 
Philosophy, Politics, and Economics (or any combination thereof) 
Philosophy and Modern Languages (French, German or Italian) 
Philosophy and Theology 
Physics 
Physics and Philosophy 
Politics 
Psychology (Experimental) 
Psychology and Philosophy 
Theology and Religion 
Theology and Oriental Studies (Arabic or Islamic Studies) 

 
Student Life
Orientation  
Pembroke College offers a comprehensive, week-long orientation for new students before the beginning of the first term. Orientation events for international students take place at the same time as for the first year ("fresher") students and include events such as the  Student Union Freshers' fair, during which students can join hundreds of student societies and clubs.  
There are additional events specifically for the Tufts in Oxford cohort, covering topics like British language, traveling around the UK, positive mental health, how to plan out your time abroad, and joint events with the Tufts in London program. 
Housing and Meals  
Students are housed in single rooms in one of Pembroke's residence halls on the college's main site in central Oxford. Students can remain in their rooms throughout the duration of the program (October through June) and do not need to move out between terms.  
Students are on the flexiplan meal plan, a set amount of credit per term which can be used for meals in Hall for lunch and dinner, a certain number of Formal dinners in hall, and at the college café, Farthings. Students are also provided a stipend to meet the cost of other meals as well as some basic living expenses.
Co-Curricular Activities  
Students have access to over 400 clubs, societies, publications, and teams through Pembroke College and Oxford; visit Oxford Life to learn more. Previous students have joined the rowing teams at Pembroke, and played for the university's men's lacrosse, MMA, and women's football teams.  They have also joined college and university orchestras, written for various publications, and become involved in all aspects of college life.  Many join the world-famous Oxford Union, home of extraordinary speakers and debates. See also: Sports (A to Z), Register of Student Clubs, and Pembroke Junior College Room.
Tufts in Oxford provides a 'Clubs & Societies' stipend to support membership in the Oxford Union and/or other student groups that require a membership fee.  
Tufts-in-Oxford students are encouraged to participate in the events of the Tufts-in-London program, and the cost of traveling to London to participate is covered. Recent events have included a behind-the-scenes tour of the House of Commons, performances at Shakepeare's Globe, a traditional English tea on a converted vintage bus,' and the UEFA Finalissima England vs. Brazil match at Wembley. Find more information on the Tufts in London and Oxford website. 
Student Perspectives
The tutorial system was, I think, the ideal way to learn, particularly in the Humanities and Social Sciences, and challenged us to develop reflexive and ambitious opinions. Read the full article >>
2018–2019 Participant
"Going abroad to Oxford for the year did more for my educational development than any other year of instruction prior. It augmented and enhanced the coursework I engaged with at Tufts and brought my academics to a higher level than I had imagined capable." — 2022–2023 Participant
"Being able to meet an entirely new community of people abroad was a wonderful experience and specific to Oxford - the academic experience was enriching in a way I could not have imagined. It was during my study abroad experience at Oxford that I realized some of my most prominent academic strengths, and I'm grateful I had the opportunity to do so." — 2022–2023 Participant
"Oxford persuades me that academia could be a lifelong companion." 
— 2022–2023 Participant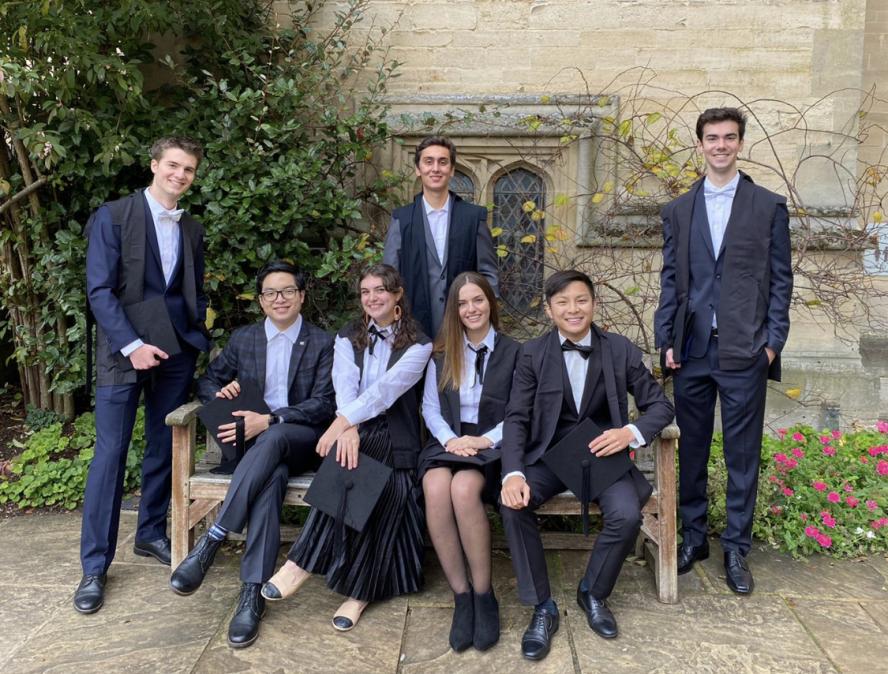 Program Staff
The on-site staff advises students on academics and co-curricular activities and organizes study tours, events, and cultural excursions.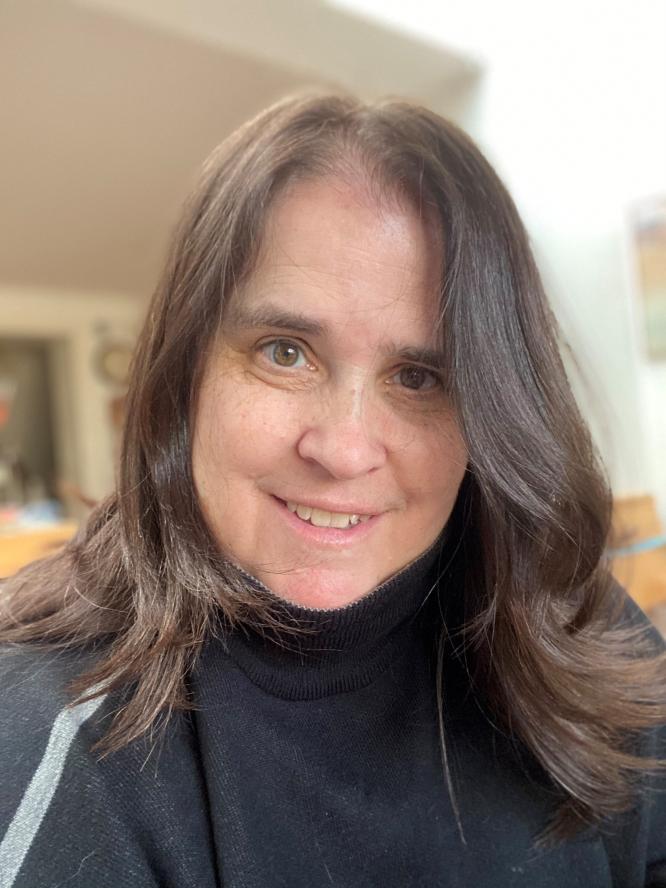 Meredith Hyde (she/her/hers)
Director, Tufts in London and Tufts in Oxford
Dr. Meredith Hyde grew up in New York, London, and Montreal, and as a 'third culture kid' has a natural affinity with those living for the first time in new environments.  She earned her B.A. from Yale in English Literature and her M. Phil and D. Phil from Oxford University, where her doctorate concentrated on metacognition in study abroad. She has taught at universities in the US, Canada, and the UK, and became a Fellow of the Royal Society for the Arts in 2010.  Director of the Tufts in London and Tufts in Oxford programs since 2019, she has twin sons, ensuring her work/life balance is a continual work in progress.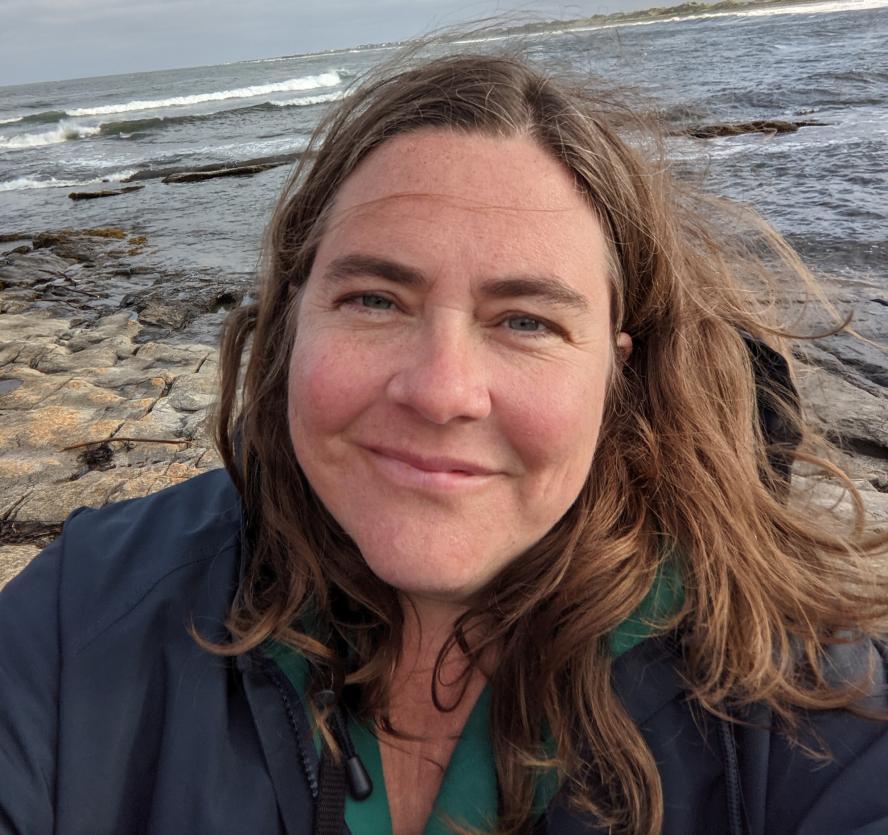 Vicky Hill (she/her/hers)
Assistant Director, Tufts in London and Tufts in Oxford
Vicky Hill grew up on the Yorkshire Moors and has lived in the Czech Republic and Israel, but now considers herself a fully-fledged Londoner.  Over her 15 years working in International Education, she has helped students settle into London from all over the world. She enjoys watching every new cohort discover the city and says seeing it through fresh eyes helps her fall back in love with London in a different way each time. She spends her free time writing poetry and mudlarking for treasure on the Thames foreshore with her two daughters. Vicky joined Tufts in London and Oxford in 2019 and became Assistant Director in 2021. She has a B.A. in English from the University of Birmingham and an M.A. in Children's Literature from Goldsmiths College, University of London.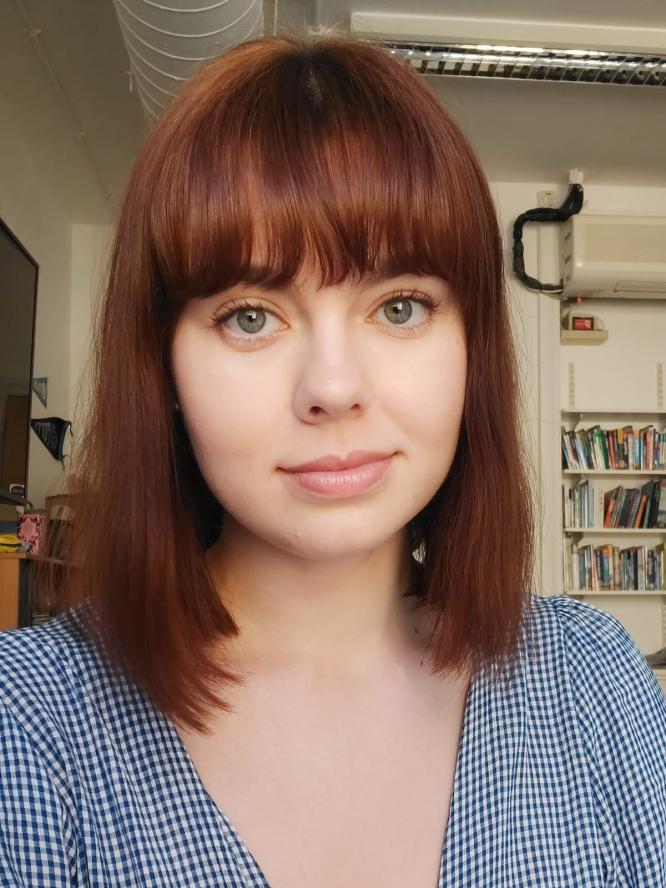 Nicollette Kabat (she/her/hers)
Program Administrator, Tufts in London and Tufts in Oxford
Nicollette Kabat grew up in Pennsylvania and attended college at Arcadia University, earning a B.A. in Psychology. The daughter of Polish immigrants, Nicollette was interested in studying outside of the USA and attended two study abroad experiences in London during her time at Arcadia. Her love of the city influenced her decision to move back to London after graduation. Apart from taking care of her cats, she spends her time exploring castles and historical locations across the UK and reading Jane Austen. She has worked at the study abroad offices of Arcadia University and Fordham University prior to joining Tufts in London and Tufts in Oxford as the Program Administrator.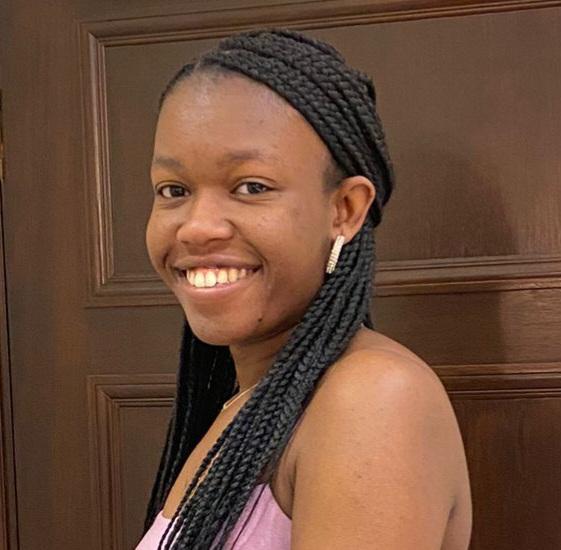 Monique Jeffrey-Weekes (she/her/hers)
Student Engagement Coordinator, Tufts in London and Tufts in Oxford
Monique Jeffrey-Weekes has lived in London her whole life. She has a BSc in Criminology from London South Bank University and over 10 years' experience working with university students, most recently within student accommodation. Monique likes visiting different areas of the UK as there is always something new to see, especially in London! She also enjoys traveling the world and experiencing different cultures.  
Dates and Fees
2023-2024 Program Fees
Full Year: $85,504 ($66,358 tuition plus $19,146 program fee) 
What's included:
Orientation program 
Full tuition and fees at Pembroke College  
Housing within Pembroke College for the duration of the program (October through June) 
Full food: 
Pembroke College flexiplan meal plan 
Weekly cost-of-living stipend to cover additional meals (academic terms only) 
Use of the University of Oxford facilities including computers, email, and library access 
Extracurricular activities offered by Tufts in Oxford  
A "Clubs & Societies" stipend to support membership in the Oxford Union or other fee-based student groups 
Opportunity to attend events in London with Tufts-in-London students (subsidized tickets are provided) 
18-35 Railcard for discount rail travel in the UK, including Oxford-London 
What's not included:
Airfare and other travel costs (visas, etc.) are not included in the program fee; student is responsible for these charges.  
Note that the cost of a visa is £833.  
For more details on Tufts University's Cost of Attendance, please consult Financial Services' Direct and Indirect Costs for Undergraduate Students.
Academic Calendar  
Full Year: October to late June 
Pembroke's calendar is divided into three teaching terms of eight weeks each, taught over the course of the academic year:  
Michaelmas: October through December 
Hilary: January through March  
Trinity: April through June 
Dates are approximate and subject to change. Students must complete the full program and cannot leave early for an internship, summer job, or other obligation.