Data and Computer Sciences and Italian in Pavia, Italy
Tufts Global Education, in cooperation with the School of Engineering and the Program of Italian Studies, has created a 5-week program in Pavia, Italy aimed to provide students the opportunity to immerse themselves in the wonderful culture of Italy while earning credits in Data or Computer Science. This program is designed for all students with an interest in Computer Science and an eagerness to learn about Italy, with its rich history and culture. No background in Italian language or Computer Science is needed.
Application: 2023 application is now closed.
Dates: June 4 - July 8, 2023
Where: Pavia, Italy
Instructors: University of Pavia Professors
Courses: students will take a total of two courses, one course in either Computer or Data Science and one course in Italian language or culture.  
Total credits: 6 Tufts SHUs
Cultural activities: weekly excursions and field trips
Minimum Requirements: Interest in Data Science, Computer Science, and particularly in the Italian culture. No prior Italian language nor Computer or Data Science classes are necessary to apply to this program.  Must be in good academic and disciplinary standing. For visiting students, you must have a 2.75 GPA and be in good academic and disciplinary standing.  
Tuition & Fees: $9,975.  
Funding: Global Education Scholarships for Summer 2023 have been reserved for Dec 1 priority applicants but interested individuals are encouraged to meet with their financial aid counselor to explore access to any additional funding sources.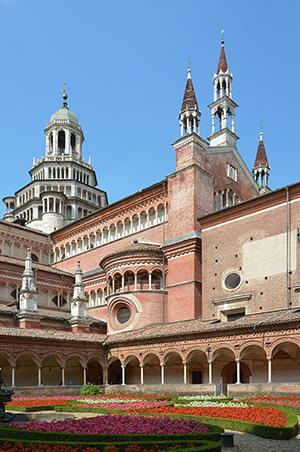 Computer Science and Data Science Courses
For the Computer and Data Science courses, the University of Pavia will offer two options that students may choose between. Both courses have been designed and approved by Tufts Engineering and Computer Science faculty. The courses are:
COMP 11 Introduction to Computer Science (30 hours): The course will provide students with a broad foundation in computer science. Topics include:
Historical review of computer science.
Binary and hexadecimal systems.
Integers and floating-point numbers representation, fundamentals of logic gates.
Von Neumann architecture and its basic components, CPUs and memory hierarchy.
Types of removable media.
Introduction to operating systems.
Programming paradigms, basic programming concepts.
Concept of algorithm, representation, correctness and performance of algorithms.
Introduction to objects.
Programming will be introduced with simple examples and exercises in Python
Prerequisites: No previous CS experience required
COMP 52 Data Science and Data Analysis (30 hours): This course will examine the following topics:
Storage for data analysis.
Data representation, structured vs non-structured sources; data indexing (selectivity vs value distribution); access methods (on-premise and distributed data); logical models (flat tables; key value storage, etc.); scalability.
Foundations of statistical data analysis and visualization.
Univariate and multivariate random variables; boxplots, histograms, scatter plots; correlation; statistical estimation and confidence intervals; multiple linear regression; bias-variance tradeoff; nonlinear regression.
Principles of machine learning: Supervised Learning by examples; logistic regression; representation, evaluation, optimization; Artificial Neural Networks;  Clustering.
Python for data science Lab: Introduction to Python. Numpy and Pandas by examples. Experiments in machine learning with scikit-learn.
Prerequisites: Some programming experience required, ES 2 or CS 10 or CS 11 and both Math 32 and Math 34 by the end of the spring 2023 semester
Italian Courses
All students will be required to take one Italian language course. The Italian language program at Tufts, in cooperation with the University of Pavia, has designed the following classes for students in this program:
Italian 001: Development of basic language skills. Introduction to Italian culture and fundamental grammar structures with emphasis on speaking, listening comprehension, and short writing assignments. Conducted in Italian.
Italian 002: A continuation of Italian 001. Advances the study of basic grammar and vocabulary. Readings and films will provide the cultural context for class activities, oral presentations, and compositions. Conducted in Italian. Pre-requisites: Italian 001 or prior consent of the Italian Language Program Coordinator.
Students with a level of Italian higher than Italian 002 will participate in either smaller classes or an independent study. Students who have completed their language requirement in Italian (Italian 22) will enroll in an Italian culture course. These special courses will be designed by the Italian language program at Tufts in cooperation with the University of Pavia. Like the other language courses, they will aim to advance the student's language skills, develop their cross-cultural awareness and foster their intercultural competences.  
Extracurricular Activities
The program offers mandatory weekly field trips and cultural excursions to all the students. Weekly cultural activities are designed to engage students in the unique history of Pavia and Italy, broaden their knowledge of the territory and its uniqueness, while complementing the topics studied in the language classes. 
Planned activities:
Program Orientation and Walking Tour of Pavia.
Guided Tour of Pavia (history, art, food, etc.) with final "Aperitivo."
Contemporary Milan and its Architecture
Visit of a local vinery and Oltrepo hills. Includes transportation, tour guide, and a light lunch.
Visit the Turin Museo dell'Auto 
Guided 3-day trip to the National Park of Le Cinque Terre in the Liguria region, includes tour guide, transportation, and activities that provide students multiple options to explore the National Park.
Additional activities will also be offered. All planned activities are included in the cost of the program.
Lodging
Students will live close to campus at the glorious Palazzo Vistarino. Palazzo Vistarino is a rare example of baroque art in the Lombardy region, with its gorgeous frescoes and golden decorations throughout its rooms. A historical building and former residence of a local noble family from the 18th century, it features spaces for music, reading and conversation, a park, a viewpoint, and a private chapel. Currently owned by the University of Pavia, it is used for conferences and guest housing for student groups and other visitors.
Other Included Amenities
Breakfast daily
Lunch or dinner (Monday – Friday)
Transportation to and from the airport
Passes for local open-air swimming pool
Local bus tickets
Mentor and Italian Peers
Living with the students will be a local "Tutor" or mentor that will be assigned by the University of Pavia. They will provide helpful advice on how to adjust to Pavia and the program. They also will attend the field trips and activities that occur during the course of the program to assist students and facilitate the many aspects of their experience abroad. The University of Pavia will also provide "Italian peers" for Tufts students. The "Italian peers" will have the main role to facilitate Tufts students' knowledge of the territory and to promote their cultural immersion. The Italian peers will organize fun cultural activities with Tufts students, will encourage them to practice their language skills, and will introduce them to different aspects and practices of the Italian social life.
Tufts Faculty Leader
Students will be accompanied by a Tufts Faculty Leader throughout the entire duration of the program. The Faculty Leader will help students navigate the town, address all students' concerns and issues, ensure the academic rigor of the program, and will act as liaison between Tufts administration and the University of Pavia while there.
About Pavia
The city of Pavia is located in northern Italy, around 30 km south of Milan (about 30 minutes by train) and is home to an incredible number of artistic and cultural treasures, including several world-renowned churches and museums, like the Certosa of Pavia. With origins dating back to pre-Roman times, Pavia is famous for its rich history and its fine cuisine, including its famous wines from the Oltrepò hills, its notoriously mouthwatering cheeses, and its traditional risotto alla Certosina.
This beautiful and culture-filled little town offers numerous opportunities for socialization and fun, with its four theaters and cinemas, twenty-two libraries, nineteen museums, and two cultural centers. Its location makes it the ideal base for trips around Italy as well as Europe, with only one and a half hour flights from cities like London and Paris, and a mere five hour train ride from the gorgeous Sorrento and Amalfi coast in southern Italy. For those interested in sports, the University Sports Centre (CUS) in Pavia offers a wide range of courses, championships and tournaments, while a variety of pools is available throughout the summer.
About the University of Pavia
Founded in 1361, the University of Pavia (UNIPV), is one of the world's oldest academic institutions in Europe. Like the UK's Oxford and Cambridge, the University of Pavia is structured using a college system, dating back to the 16th century, with a striking historic campus.
The University of Pavia features in a number of QS rankings. Ranked within the global top 550 in the QS World University Rankings® 2015/16, UNIPV is particularly competitive in the fields of linguistics, civil and structural engineering, pharmacology, life science and medicine – as highlighted by the QS World University Rankings by Subject 2016.
Comprised of 20 colleges which all have their own particular histories and opportunities to offer, UNIPV is an open community where academic achievement, traditions, parties and sporting rivalries all have their place.
Originally created around schools of law, humanities and medicine, the University of Pavia now offers 83 courses in:
Engineering and architecture
Natural sciences
Health professions
Literature
Economics
Sports sciences
Mathematics
Medicine
Psychology
Languages
Political sciences
Musicology
Physics
Pharmacology
Law
Philosophy
Communication
Financial Aid
Tufts University students who are registering for the a Short-Term Abroad Program are eligible to apply for a Global Education Scholarship.
There are a limited number of scholarships available and are awarded based upon financial need.  Priority will be given to students with a family contribution under $7,000. Scholarships are available only to current Tufts University students (international students may apply but must contact aliki.karagiannis@tufts.edu).
To be considered, students must submit a Global Education Scholarship Application to Student Services. Recipients will be notified of scholarship awards before the program deposit deadlines.
Federal aid may also be available to students attending a summer program. Eligibility will be determined by the Financial Aid Office based on  the student's 2021-22 financial aid application and award. Federal aid may include Federal Direct Loans (Subsidized/Unsubsidized) and/or Pell grants.
For additional questions, please contact the Financial Aid Office at 617-627-2000.