GSAS Community Fellows have the mission to develop community within the Tufts Graduate School of Arts and Sciences specifically for underrepresented students.
Our Mission
The Community Fellows have the mission to develop community within the Graduate School of Arts and Sciences specifically for underrepresented students. Working with the GSAS Dean's Office and other leadership on campus, the fellows will work to create diversity and inclusion initiatives that will meet the needs of current students and lay a foundation for a continuum of community building.
Meet the 2021-2022 Fellows
Qimei Liu (she/her/hers)
I go by May, and I am a lesbian from China. I have been on the east coast of the U.S. for five years since I went to the University of Connecticut, where I finished my undergrad degree in Women's Studies. I am currently completing my Master's in the Diversity and Inclusion Leadership Program. 
I consider myself an open-minded, self-reflective, and action-oriented person who values communication and self-care. My past experiences of being a peer mentor, student coordinator, and group leader reflect my passion for building up communities, connecting and empowering individuals. I am generally curious about how people think, how things work, and always available to talk about love, balance, growth, and relationships. I like to hang out with friends, play sports, and practice Chinese martial arts outside work and studying.  
Zainab Mohamed (she/her/hers)
I graduated from the Faculty of Dentistry, University of Khartoum, in Sudan. My interests went beyond the clinic and led me to a master's degree in the field of International Health from Uppsala University in Sweden. Before coming to the US, I worked in the public and private health sectors in program evaluation, health policy and management and HIV/AIDS.
My life journey brought me to the field of diversity, equity, and inclusion (DEI) work through my two children. As an immigrant parent I quickly became aware of the shortcomings of the public school system regarding cultural and religious diversity programming and inclusion practices. I am interested in creating programs and curriculums that embrace our children's identities in ways that support their whole self without leaving any parts hidden or malnourished. Currently I am finishing my first year of the Diversity and Inclusion Leadership master's program.
I am a spiritual person; I appreciate nature and planet Earth. I enjoy social gatherings of family, friends, and occasional strangers! I love/hate camping with my kids. My most precious acquisitions are books and I devour classic Arabic literature and poetry. Al Tayeb Salih is one of my favorite authors. I also like Elia Abu Madi poetry and journals. 
Daniela-Filipa Soltan (she/her/hers)
I am currently in my second year of the Diversity and Inclusion MA program. Before coming to Tufts, I double majored in Cross-Cultural Relations and Spanish and Latin American Studies.
I am interested in community building through fostering cross-cultural dialogue and understanding, as well as building inclusion and belonging along the intersections of different social identities. My interests include applying Diversity, Equity and Inclusion theory into practice, bringing a lens of intersectionality to everything I do, and figuring out how to successfully export and apply U.S. concepts of social justice and DEI abroad.

My personal interests are varied! I enjoy reading; listening to audiobooks; playing video games; curating playlists that span genres, cultures, and languages; all kinds of crafts such as crochet and wire or resin jewelry-making; and skiing in the winters! I'm a huge fan of Dystopian Literature and Fantasy & Science Fiction, so right now my favorite books are A Handmaid's Tale by Margaret Atwood and Kindred by Octavia Butler.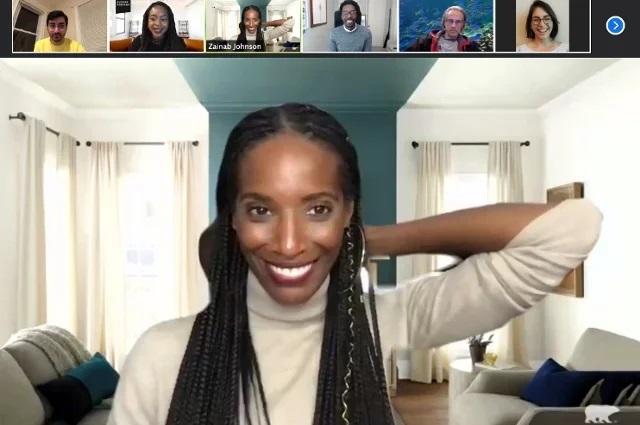 Fostering Belonging Among Graduate Students
Two master's candidates work to build an inclusive community for students of color and underrepresented students at GSAS