GSAS Community Fellows have the mission to develop community within the Tufts Graduate School of Arts and Sciences specifically for underrepresented students.
Our Mission
The Community Fellows have the mission to develop community within the Graduate School of Arts and Sciences specifically for underrepresented students. Working with the GSAS Dean's Office and other leadership on campus, the fellows will work to create diversity and inclusion initiatives that will meet the needs of current students and lay a foundation for a continuum of community building.
Meet the 2022-2023 Fellows
Jada Copeland (she/hers)
I am multiracial, cisgender Black woman and a first-generation college/graduate student. Currently, I am a second year in the Social Psychology PhD program. Prior to becoming a Tufts Jumbo, I studied psychology and minored in sociology at William & Mary in Virginia. 
My main interests include understanding and finding ways to dismantle the presence of systemic marginalization in higher education and the services/opportunities provided by these institutions. I also seek to create community by acknowledging how our intersectional identities impact our everyday lives. My personal experiences have guided these interests, and I hope to provide a safe space that acknowledges all our experiences as valid.
My personal interests include reading, cooking, playing video games, watching movies, knitting, and so much more! I am a huge fan of binge-watching shows on Netflix, especially Bridgeton, Grey's Anatomy, and pretty much anything Shonda Rhimes creates. I am also that person who will watch a movie/show and then buy the book to compare.
Kayden Kelley
I graduated from Tufts University in May of 2022 and am now working towards my MA in Urban and Environmental Policy and Planning in the UEP Combined Degree Program. I have lived in Massachusetts my entire life and with that in mind I hope to some day improve quality of life for urban suburban and rural residents. 
Being outdoors is something that I have had the privilege of enjoying since a very young age which is not afforded to many people who look like me. With this in mind, I began researching what kind of restraints, be it societal or financial, have historically stopped minorities from participating in outdoor recreational activities. I hope to continue this work and find practical solutions to get underrepresented communities engaged in both outdoor fun and climate activism. 
In my free time I like to listen to podcasts, play video games with friends, hit the gym, and play basketball. I have also found a new love for audiobooks having recently listened to some George Orwell, Ernest Hemingway, and Sun Tzu. 
Ariel "Ari" Valdes (she/they/ella)
I am a queer, Latinx POC born and raised in Massachusetts. I am a first-generation college student and the first person in my family lineage to be enrolled in a master's degree program. Currently, I'm into my second year of wrapping up my graduate degree in Diversity, Equity, Inclusion, and Justice Leadership. Previously, I worked for a couple of Boston-based nonprofits, including The Massachusetts Coalition Against Sexual Assault and Domestic Violence (Jane Doe Inc.). 
I am interested in community building, conflict resolution, inclusion, accessibility, economic justice and restorative justice. I enjoy geeking out about accessibility technology, facilitation tools, interactive media, and game mechanics. I love arts and crafts (painting, crocheting, jewelry making, etc.), video and board games, narrative storytelling, weightlifting, and watching movies. My favorite book genres include magical realism, sci-fi, and afro-futurism, and some of my favorite reads have been Wounded Little Gods by Eliza Victoria, What It Means When a Man Falls from the Sky by Lesley Nneka Arimah, and Octavia's Brood edited by adrienne maree brown and walidah imarisha. 
Mina Lan Yi (She/her/hers)
I am a current student in the Mathematics MS program. Before coming to Tufts, I graduated from the State University of New York in Stony Brook, double majored in Mathematics, and Applied Mathematics and Statistics, and minored in Japanese.
I was born and raised in a multicultural family with Han Chinese, Mongolian, Daurian, Buryat, and Cantonese. I am interested in supporting women in science, increasing multicultural understanding, and broadening the participation of underrepresented groups. Back at Stony Brook University, I worked as captain of the International Student Ambassador to assist international students' cultural adjustment, and promote their engagement and success. I was a fellow of the Tufts GLIDE program from 2021-2022 to enhance the support system for graduate international students.
I am outgoing and compassionate. I grew up in Khorchin and Hulunbuir grassland, so I respect nature. I love playing piano, flute, and piccolo; and I'm always passionate about learning more musical instruments.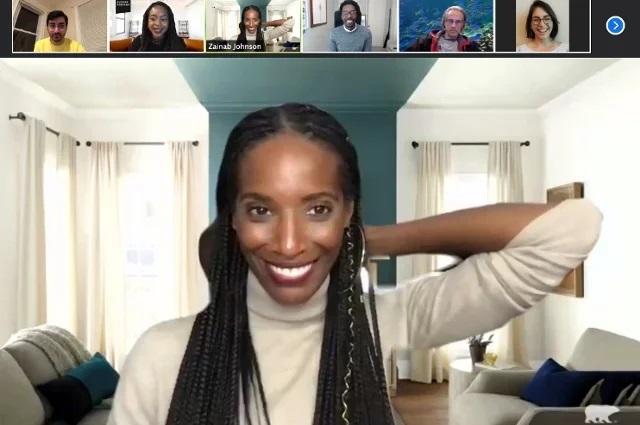 Fostering Belonging Among Graduate Students
Two master's candidates work to build an inclusive community for students of color and underrepresented students at GSAS